Aviation art posters prints, limited editions and paintings dedicated to the world's most famous airliner Concorde,a product of an Anglo-French government treaty, combining the manufacturing efforts of Aérospatiale and the British Aircraft Corporation. First flown in 1969, Concorde entered service in 1976 and continued commercial flights for 27 years.
Among other destinations, Concorde flew regular transatlantic flights from London Heathrow (British Airways) and Paris-Charles de Gaulle Airport (Air France) to New York JFK, profitably flying these routes at record speeds, in less than half the time of other airliners.
As a result of the type's only crash on 25 July 2000 and other factors, its retirement flight was on 26 November 2003.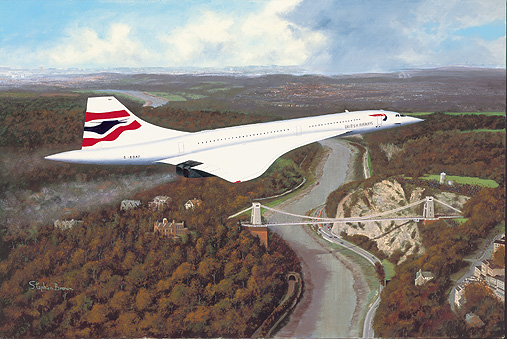 ---
To see more details and to buy these prints go

here
The above are examples from our Main Catalogue



Captain Les Scott, Senior First Officer Tim Orchard and Senior Engineering Officer Rick Eades made history
on the 7th February 1996, when they flew
Concorde G-BOAD from New York to London in a
record-breaking 2 hours,52 minutes and 59 seconds;
the fastest ever transatlantic crossing by a commercial aircraft.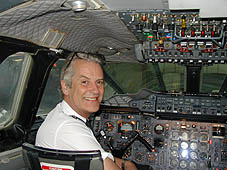 Capt Leslie Scott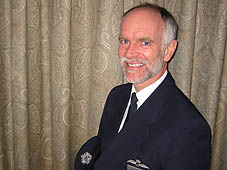 Senior First Officer Tim Orchard
---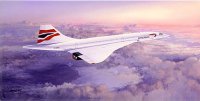 "Concorde - Queen of the Skies"
This print by Philip E West is signed by Barbera Harmer (below), the first and only female Concorde Pilot